New Tools for Drywall Finishers May Reduce Injury Risk
Midstate Education and Service Foundation (formerly: Midstate Central Council, AFL-CIO)
Summary Statement
Describes results of testing of new finishing tools for drywall finishers such as spring powered flat boxes and corner applicators.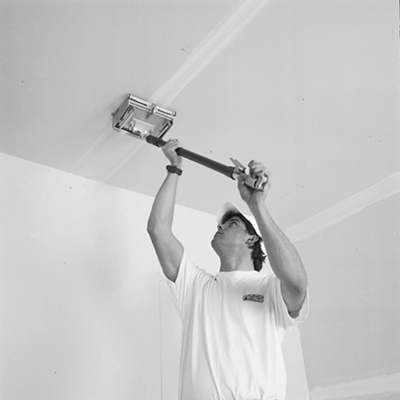 Finishing drywall with flat boxes is hard work. Finishers tell us that running flat boxes is one of the toughest parts of the job because of the large amount of force required to push mud out of the tools. Some finishers refuse to use flat boxes because they fear becoming injured. Luckily, there are now alternatives to traditional boxes. There are spring assisted systems and powered systems available that may make finishing easier and safer.
We have found that spring powered flat boxes made by Ames Taping Tools work great. The boxes work just like regular ones but springs push the mud out for you when you place a box on the wall. Some pushing is still required but we found that it requires only one quarter the muscle force of regular boxes. All nine of the finishers that tested them for us said that the new boxes were easier to use than standard ones.
If you use flat boxes, you should give these new ones a try. While they may not completely eliminate the risks involved in finishing they do appear to reduce those risks by decreasing the force needed to use them. All of the finishers that we worked with said they were less tired after using the spring boxes and prefer using them to the old design. You can rent "Power Assist" boxes from any Ames distributor (1-800-241-2771).
We have also just begun to test a new corner applicator from Ames. This tool uses a hydraulically damped spring to push mud out of the tool. The spring applies all of the force required to apply the mud. All the user does is guide the tool through the joint. This is a dramatic difference from traditional corner boxes that are considered by some finishers to be the toughest tool to use because of the enormous force required to push mud out (even more than flat boxes). At this early stage in our research it appears that the new applicator does a good job and eliminates all of the force involved in coating corners.
We have also begun to test a powered finishing system from Aplatech that finishes both flats and corners. Aplatech uses an air compressor to pump mud out of the tool onto the wall. The compressor also fills the tool with mud from a hopper so there is no manual pumping as with traditional tools. Our tests with this system show that it requires very little effort from the user. Our measurements show that the Aplatech requires as little as 10% of the muscle activity of spring powered Ames boxes and only 2% of regular boxes. Users tell us that they can use the system all day without excessive fatigue.
There are however downsides to this system. It requires a fair amount of time to learn the technique (up to two months); users must deal with air lines from the compressor to the pump and from the pump to the tool, and also may be bothered by noise from the compressor. We have just begun testing this system but believe that it may be a good alternative to traditional flat boxes for some finishers, especially for injured finishers or those concerned with becoming injured.
For more information on this research, call Greg Shaw at the Midstate Central Labor Council (607) 277-5670.
This research is funded by
CPWR – Center for Construction Research and Training
(the research institute of the Building and Construction Trades Department, AFL-CIO).