Summary Statement
This powerpoint presentation offers a statistical survey of shortcomings in scaffold safety in the U.S. construction industry.
2002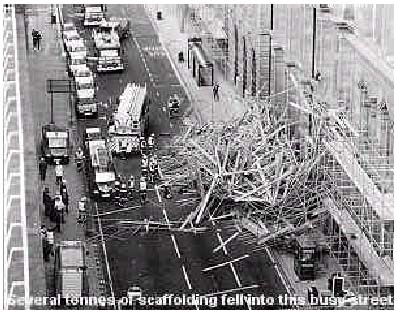 Fatal Falls from Supported Scaffolds, 1992-98
Total # of deaths = 267 (38/year)



217 falls (81%)

47 collapses (18%)



15 deaths (6%) dismantling scaffolds

6 deaths (2%) assembling scaffolds

Source: U.S. Bureau of Labor Statistics data
Research Methods
Used a 150-point checklist to evaluate scaffold safety practice



Rated scaffolds as acceptable or unacceptable



Evaluated 113 scaffolds in 9 areas of Eastern U.S.

Also evaluated information on worksite, workforce, and scaffold competent person.
Results
36 of the 113 scaffolds (32%) were unacceptable and posed imminent hazards:



danger of collapse

missing planking, guardrails, and/or

inadequate access



77 scaffolds (68%) were acceptable and posed no imminent danger to the workers.
30 Scaffolds (27%) Had Structural Flaws
| | |
| --- | --- |
| Missing or improperly supported base plates | 17 |
| Scaffold not tied properly to building | 13 |
| Platform not level | 6 |
| Some runners missing | 3 |
| Some jacks overextended | 2 |
| Severe overloading | 2 |
| Some posts incorrect | 1 |
| Some braces not tight | 1 |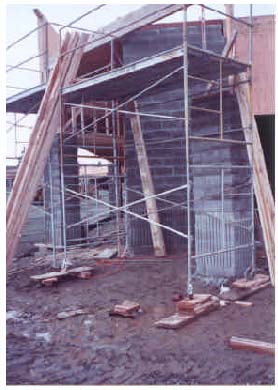 36 Scaffolds (32%) Had Fall Hazards


 
# fall hazards
Missing mid guardrails
33
Missing top guardrails
28*
 
* Also missing midrails
 
Improper access
 
 
Climbing scaffold frame
23
 
Other severe access problems
5
Partially planked platforms
26
Substandard planks
3
Correlation between Structural Flaws and Fall Hazards
36 scaffolds were unacceptable

23 had both structural flaws and fall hazards

10 had fall hazards only

3 had structural flaws only
Problems of Unacceptable Scaffolds
36 scaffolds were unacceptable



92% were missing guardrails

83% had structural flaws

78% had poor access

72% were insufficiently planked
Scaffold Competent Person
Required by OSHA



29 CFR 1926.451(f)(3) requires inspections by competent person before each work shift and after occurrences which could affect scaffold structural integrity



Competent person



Recognize hazards

Authorized to take corrective action

Competent Persons on Scaffold Sites
104 sites had workers present

82 (79%) had competent persons

10 sites (10%) said competent person was not present

72 competent persons were interviewed



Only 32 (44%) had scaffold safety training
Need for Competent Person Scaffold Safety Training
32 sites had competent persons who had scaffold safety training



25 scaffolds (78%) were acceptable



62 sites had no competent person or had one without scaffold safety training



24 scaffolds (39%) were acceptable
Importance of Scaffold Erector
72 scaffolds erected by scaffold user


41 scaffolds erected by scaffold erection contractor


Effect of Union Status of Scaffold Erector
49 scaffolds erected by union contractors


64 scaffolds erected by non-union contractors


Effect of Type of Supported Scaffold
86/113 scaffolds (76%) were frame scaffolds



54 frame scaffolds (63%) were acceptable



27 scaffolds (24%) were other types of scaffolds



23 other scaffolds (85%) were acceptable
Summary of Proper Scaffold Safety Practice -1
Unacceptable scaffolds have both:



Structural flaws



Missing or improperly supported base plates

Improper tying off to building

Uneven platform slope



Fall protection hazards



Missing planking and/or guardrails

Inadequate access
Summary of Proper Scaffold Safety Practice - 2
Strong correlations with:



Presence of competent person with scaffold safety training

Use of non-frame scaffolds

Scaffold erected by scaffold erection company



Slightly weaker correlation with union status of scaffold erector
Summary of Proper Scaffold Safety Practice - 3
No correlation with:



Location n Site size

Number of workers on the scaffold

Trade of scaffold workers
Recommendations
Hire an outside scaffold erector

Have competent person on site who has had scaffold safety training

Consider whether frame scaffolds are the best choice

Perform regular inspections
Quick Scaffold Inspection Checklist
Check for missing planks on platforms

Check for missing guardrails

Check for proper access

Check for proper tying off to buildings

Note: The first 3 points find 92% of unacceptable scaffolds

Missing Planks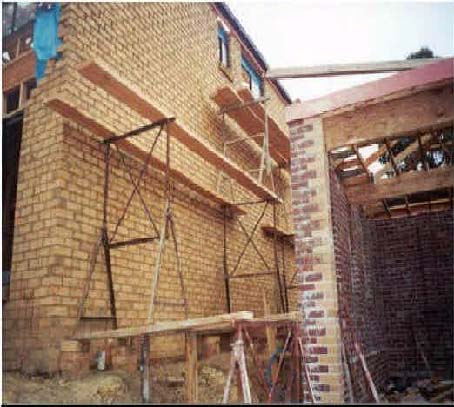 Missing Guardrails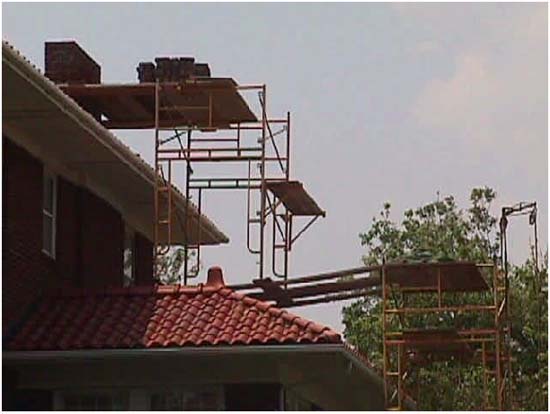 Improper Access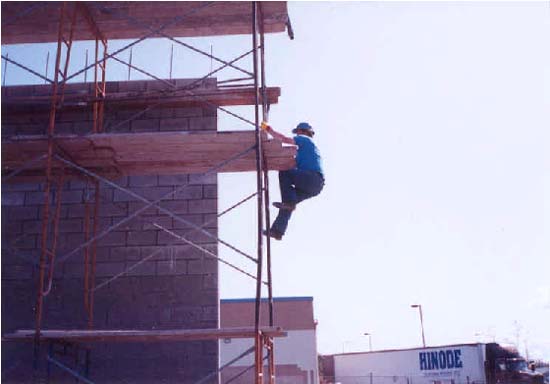 Further Information on Construction Safety and Health
CPWR – Center for Construction Research and Training
www.cpwr.com
This presentation was funded by research grant U60 CCU 317202 from the National Institute for Occupational Safety and Health (NIOSH) through CPWR – Center for Construction Research and Training, Silver Spring, Md. The contents are solely the responsibility of the authors and do not necessarily represent the official views of NIOSH.