Summary Statement
Article offers a brief guide to the types of available respirators as classified by NIOSH and which hazards each is designed to address.

New classifications help match protection to hazard
NIOSH has exclusive authority to certify most respirators
Respirator Classification
In the United States, NIOSH (the National Institute for Occupational Safety and Health) introduced new requirements for particulate filters in 1998. The new rules upgrade the respirator filters in use, providing better protection against all sizes of particles in the workplace. NIOSH has exclusive authority to certify most respirators. NIOSH standards are referenced in Canadian codes and regulations.
Oil droplets in the air have been found to ruin the filtering ability of some filter material. To ensure that a suitable filter is being used, particulate filters now have an N, R, or P designation (Not resistant to oil, Resistant to oil and oil-Proof). R or P filters should be used when oil is present.
Previously the particulate filters used on air-purifying respirators were broken down into dust/mist, dust/mist/fume, and HEPA cartridges. Now non-powered air-purifying particulate filters are divided into three levels of efficiency (95%, 99% and 99.97%). All three of the new filters will outperform the dust/mist and the dust/mist/fume filters used in the past.
The N series of filters (Not resistant to oil) is appropriate for all airborne solids (particulate) when there are no oil-based products also in the air.
The R series (Resistant to oil) should only be used for an 8-hour shift when solvent or oil mist is present in the air. This filter resists oil but may break down in contact with oil or solvent over a long time.
When using P series filters (oil-Proof), check the manufacturer's recommended service life to determine how long the filter can be used when oil aerosols are present.
Note: N,R, and P filters do not provide protection against organic vapor.
 Respirator Filters for Non-powered Air-purifying Respirators

New Classification System

 

Old Classification System

Filter Class/Efficiency

Resistance to Oil

 

Filter Class/Efficiency

Resistance to Oil

95
(95% efficient
at 0.3 um)
Superior to old dust/mist and old dust/mist/fume in efficiency

Three Types

N = Not Resistant to oil
R = Resistant to oil
P = Oil Proof

 

Dust/Mist

Dust/Mist/Fume

No standard or classification

99

(99% efficient at 0.3 um)

Three Types

N = Not Resistant to oil
R = Resistant to oil
P = Oil Proof

 

There was no filter in this range

There was no filter in this range

100*

(99.97% efficient
at 0.3 um)
Same as HEPA

*Only P100 can be colored magenta/purple

Three Types

N = Not Resistant to oil
R = Resistant to oil
P = Oil Proof

 

 HEPA**
(99.97% Efficient
at 0.3 µm)

**Colored magenta/purple

No standard or classification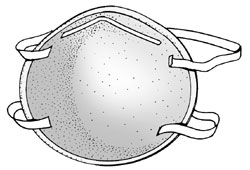 Filtering Face Piece
Elastomeric Face Piece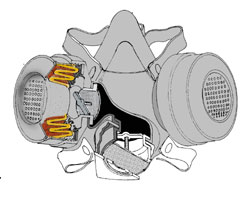 Full-Face Mask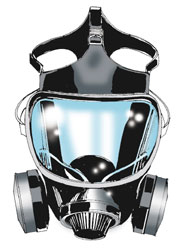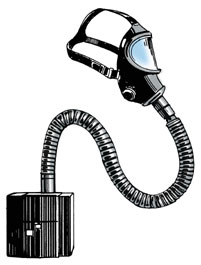 Powered Air-Purifying Respirator(PAPR)
Guidelines for typical activities
Respirator Selection
The following table lists some common construction activities and suggests respiratory protection that should provide adequate protection in most circumstances. In several cases more than one recommendation is given. Every situation is different. Factors such as the amount of ventilation, degree of enclosure, duration of exposure, specific work activity, other contaminants in the area, and user characteristics can all affect respirator selection. Please contact your respirator manufacturer or CSAO if you are unsure about the selection of a respirator for a specific task.

View Chart 1(Respirator Selection Guide for Common Construction Activities)
View Chart 2 (Respirator Selection Guide for Common Construction Activities)