Summary Statement
Ideal Solenoid Voltage Testers recalled for potential shorts.

WASHINGTON, D.C. - The U.S. Consumer Product Safety Commission announces the following recall in voluntary cooperation with the firm below. Consumers should stop using recalled products immediately unless otherwise instructed.
Name of product: Ideal Solenoid Voltage Testers
Units: About 122,000
Manufacturer: Ideal Industries Inc., of Sycamore, Ill.
Hazard: These testers can short out at high voltages. Consumers can suffer burns.
Incidents/Injuries: Ideal has received 11 reports of these testers shorting out at higher voltages, resulting in the faceplate blowing off the units. Two users were burned when their units reportedly shorted out. One reportedly sustained third-degree burns on his hands, forearms, neck and face, while the other suffered second- and third-degree burns to his hands.
Description: These are Ideal voltage and voltage/continuity testers with model numbers 61-065, 61-066, 61-067, 61-076, 61-079, and 61-080. "IDEAL" and the model number are located on the front of the tester. The tester body is yellow. The wire leads have one black and one red test probe. Recalled units were manufactured between November 1999 and May 2002. Contact Ideal to determine if your electrical tester is included in this recall.
Sold at: Electrical distributors, industrial distributors and home centers nationwide between December 1999 and July 2003 for between $30 and $65.
Manufactured in: U.S.A. and Canada
Remedy: Contact Ideal to receive a free replacement tester.
Consumer Contact: Ideal toll-free at (877) 557-8598 between 7 a.m. and 5 p.m. CT Monday through Friday. Consumers also can access Ideal's Web site at www.idealindustries.com.
Media Contact: Glenn Hollister, of Ideal Industries Inc., (815) 895-1307 and Jim MacMurdo, of Ideal Industries Inc., (815) 899-7779.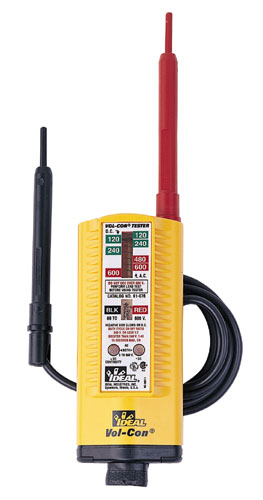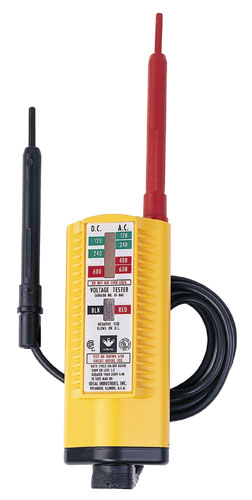 The U.S. Consumer Product Safety Commission is charged with protecting the public from unreasonable risks of serious injury or death from more than 15,000 types of consumer products under the agency's jurisdiction. Deaths, injuries and property damage from consumer product incidents cost the nation more than $700 billion annually. The CPSC is committed to protecting consumers and families from products that pose a fire, electrical, chemical, or mechanical hazard or can injure children. The CPSC's work to ensure the safety of consumer products - such as toys, cribs, power tools, cigarette lighters, and household chemicals - contributed significantly to the 30 percent decline in the rate of deaths and injuries associated with consumer products over the past 30 years.
To report a dangerous product or a product-related injury, call CPSC's hotline at (800) 638-2772 or CPSC's teletypewriter at (800) 638-8270, or visit CPSC's web site at
www.cpsc.gov
. Consumers can obtain this release and recall information at CPSC's Web site at
www.cpsc.gov
.