Hispanic workers lack health insurance; Union members are better off
CPWR - The Center for Construction Research and Training
Summary Statement
Reports on result of study of Hispanic workers indicating that Hispanic construction workers are less likely to have health insurance, although union membership improves the situation.
April 2005
Despite Hispanic workers' substantial contributions to the economy, they are suffering a health care crisis. Hispanic construction workers are less likely than non-Hispanic construction workers to have health insurance, a CPWR study has found, although union membership improves the situation. The gap in health insurance coverage has been getting worse (chart 1), even though studies have shown the importance of preventive health care.
By 2003, more than one million, or 60%, of Hispanic construction workers lacked health insurance. The CPWR study, headed by Sue Dong, data center director, analyzed U.S. Bureau of Labor Statistics surveys.
The data show, however, that union membership greatly increases the chance that a Hispanic worker – or any worker – will have health insurance. In 2003, 48% of Hispanic construction workers who were union members had employer- or union-provided health insurance compared with 18% of such workers who did not belong to a union. Employer- or union-provided health insurance is what most workers have (chart 2). Part-time status, work for small companies, working in an unskilled occupation, a low educational level, low income, and being under 40 years old are tied to lower chances of having health insurance, for all construction workers.
Findings of this research were presented at the 2004 NIOSH conference
Steps to A Healthier US Workforce
in Washington, D.C. A final report is being prepared for publication.
1. Numbers and rates of the uninsured among Hispanic construction workers, 1993-2003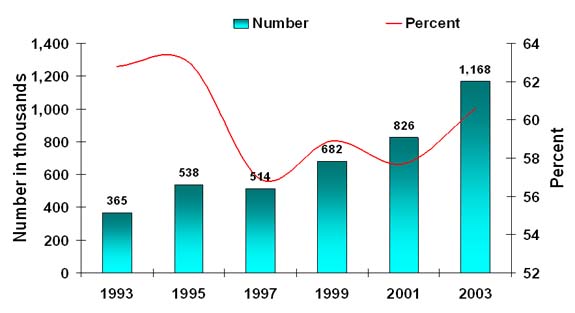 Source: March Supplement to BLS Current Population Survey, multiple years
2. Health coverage of Hispanic and non-Hispanic construction workers, 2003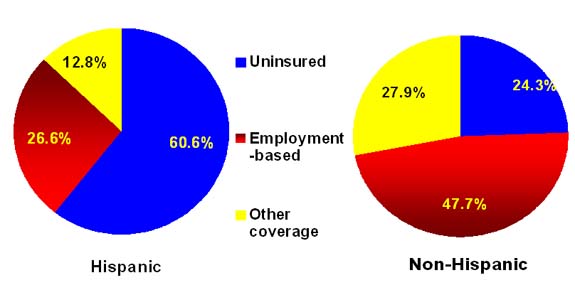 Source: 2004 March Supplement to BLS Current Population Survey