Summary Statement
Information on steps cement masons can take to avoid falls, struck-by and caught-between accidents, including data on the frequency and risk of these types of injuries.

KEEPING CEMENT MASONS SAFE: PREVENTING FALLS, STRUCK BY and CAUGHT BETWEEN ACCIDENTS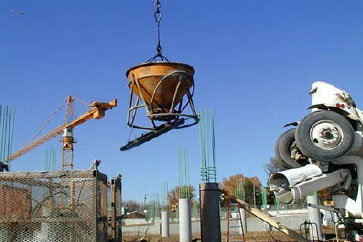 GOALS OF THIS CLASS
You will understand:



The causes of falls, struck-by and caught-between accidents in cement work
How they happen



You will be able to:



Reduce your risk of falls, struck by and caught-between accidents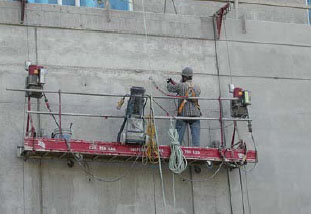 What's wrong here?
WHAT YOU NEED TO KNOW AND DO TO LAST IN THIS PROFESSION
Proper use of scaffolds and ladders
Safety around moving vehicles and equipment
Preventing falls
Avoiding what can hit you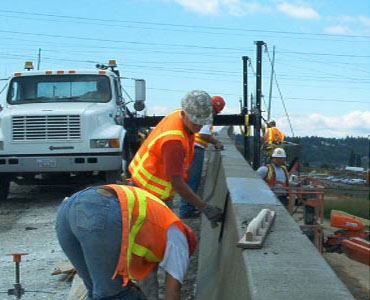 What's wrong here?
CEMENT MASONS REPORTED INJURY RATES 2006-2008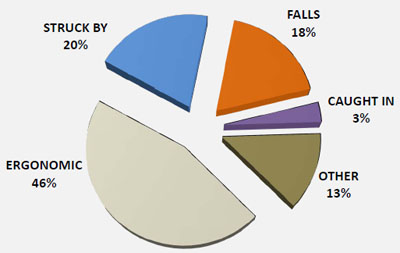 Source: Washington State Department of Labor and Industries
CEMENT MASONS FALL, STRUCK BY, CAUGHT IN INJURIES 2006-2008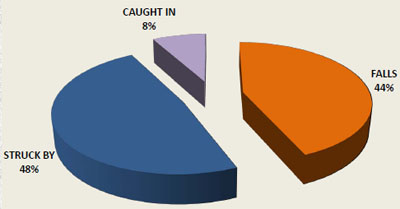 Source: Washington State Department of Labor and Industries
CEMENT MASON FALLS 2006-2008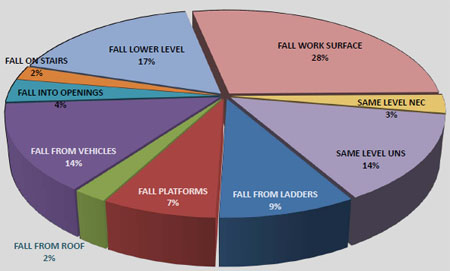 Source: Washington State Department of Labor and Industries
FALLS
Falls are a major source of Cement Mason injuries, but they are preventable!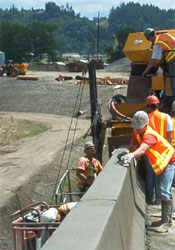 FALLS FROM PLATFORMS
RULES FOR SCAFFOLDS AND LIFTS
CHECK THE GROUND CONDITION



Too firm or too soft?
Frozen? It might thaw and begin to sink.



Is the base of the scaffold or lift level?
Is it supported on proper adjustable stands?
If it is a rolling scaffold, are the castor locks in good working order and locked when not being moved?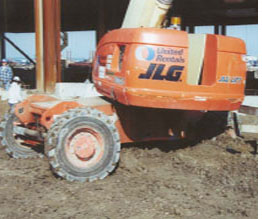 RULES FOR SCAFFOLDING
Scaffolding must be able to support at least four times its intended load
Anyone working in the vicinity of the scaffolding or on the scaffolding must wear a hard hat
Anyone constructing or operating scaffolding must be certified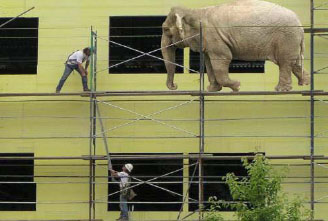 Scaffolding platforms must be kept as clear as possible
Do not use scaffolding in bad weather conditions like high winds, snow or icy conditions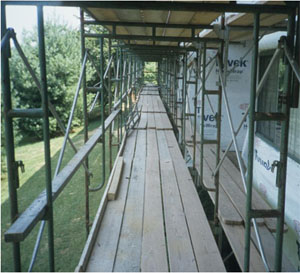 RULES FOR SCAFFOLDING and LIFTS
Never remain on the scaffold when it is being moved
Must be checked daily
If moving, secure all tools and materials
Use a hoist to haul tools, equipment or any loads up to and down from the scaffold.
Keep both hands free for you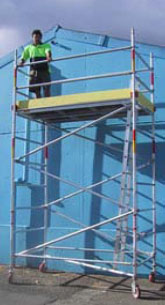 What's wrong here?
RULES FOR SCAFFOLDING
Safe access to the scaffolding must be provided -- avoid the need to climb over cross bracing.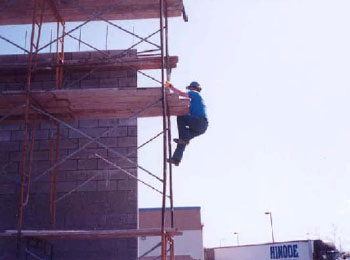 What's wrong here?
MINIMUM Safe Distances from High Voltage Sources & Power Lines
| | |
| --- | --- |
| Power line voltagephase to phase (kV) | Minimum safeclearance (feet) |
| 50 or below | 10 |
| Above 50 to 200 | 15 |
| Above 200 to 350 | 20 |
| Above 350 to 500 | 25 |
| Above 500 to 750 | 35 |
| Above 750 to 1,000 | 45 |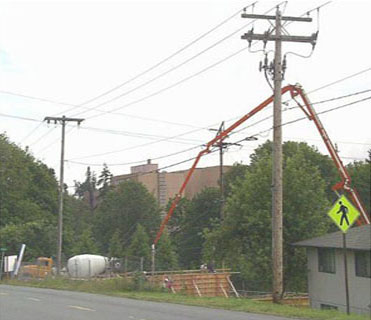 RULES FOR POWER LINES: NOT JUST FOR SCAFFOLDS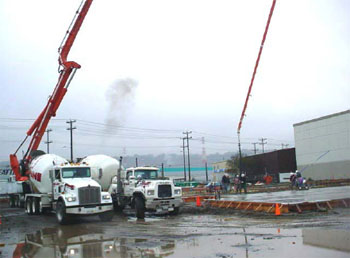 REVIEW: SCAFFOLD RULES
DO NOT use damaged or distorted parts on any scaffold.
DO NOT allow anyone to be on scaffolds when they are feeling weak, sick, or dizzy.
DO NOT work from any part of the scaffold other than the platform.
DO NOT alter the scaffold or any of its parts.
DO NOT move a scaffold horizontally while workers are on it, unless it is a mobile scaffold and the proper procedures are followed.
DO NOT allow employees to work on scaffolds covered with snow, ice, or other slippery materials.
DO NOT erect, use, alter, or move scaffolds within 10 feet of overhead power lines.
DO NOT use shore or lean-to scaffolds.
DO NOT swing loads near or onto scaffolds unless properly controlled by a tag line(s) -- and the load does not exceed the scaffold's capacity.
DO NOT work on scaffolds in bad weather or high winds unless you determine that doing so is safe.
DO NOT use ladders, boxes, barrels, or other makeshift contraptions to gain additional height on your work platform.
DO NOT let unused or scrap material accumulate on the platforms.
DO NOT put more weight (including you) on a scaffold than it is designed to hold.
FALLS FROM LIFTS AND PLATFORMS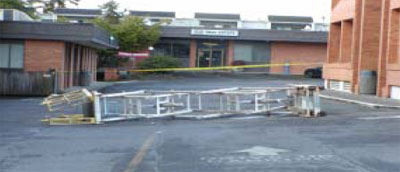 Scissors Lift Topples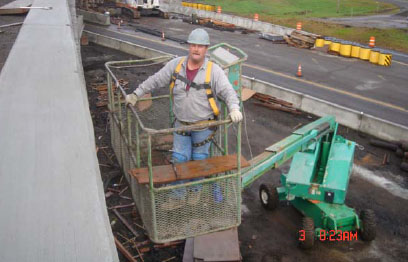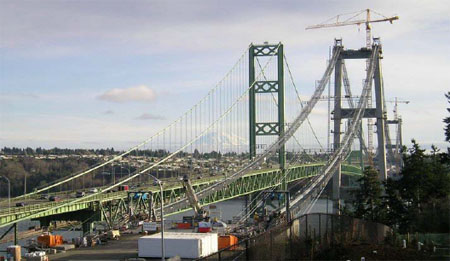 FALLS FROM PLATFORMS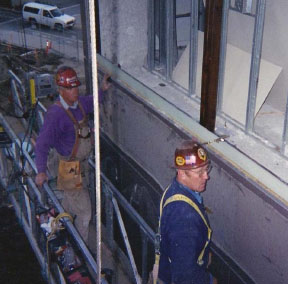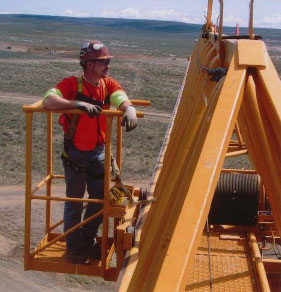 FALLS FROM LIFTS AND PLATFORMS
What prevents the lift wheel from falling into the hole?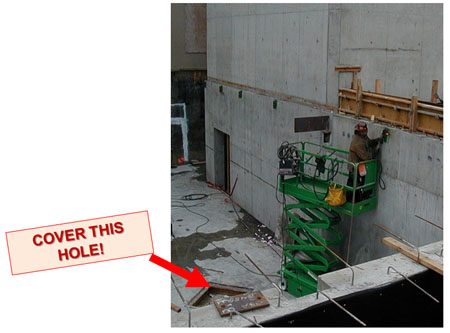 FALLS TO WORK SURFACE
Caused by slipping, tripping or falling while walking or working:
On unstable, loose or uneven, or oily surfaces
In slippery, wet , or muddy conditions
By tripping over obstacles, objects, materials or scrap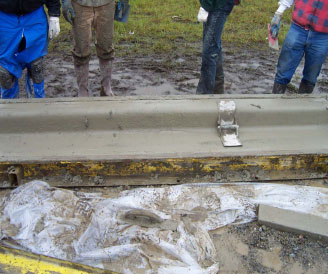 What's wrong here? Name the obstacles.
KNOW WHERE YOU ARE AT ALL TIMES
Know your surroundings when walking



Be aware of tools and materials in walking/working areas, especially pneumatic or electric tools with hoses and cords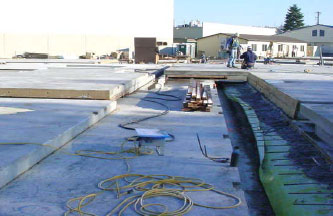 FALLS FROM LADDERS
Keep manufactured and job-made ladders in good condition
Inspect ladders before each use. Look for broken rungs or other defects. Destroy or repair defective ladders.
Place ladders at the proper angle (1 foot out from the base for every 4 feet of vertical rise)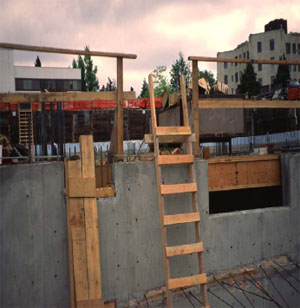 Secure ladders near the top and/or at the bottom to prevent them from slipping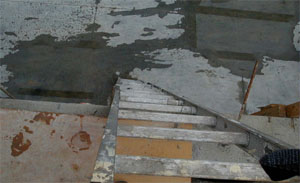 What's wrong here? Is this safe?
Building it on site? Make it safe!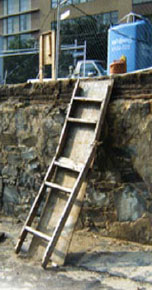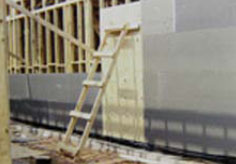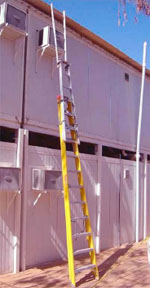 Extend ladders at least 3 feet above the landing to provide a handhold and for balance when getting on and off the ladder from other surfaces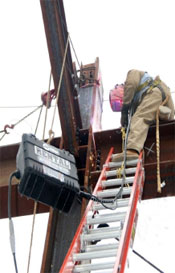 Use a hoist to move materials and equipment. KEEP BOTH HANDS FREE FOR YOU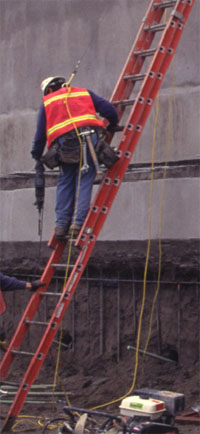 Use ladders only for what they were made –DO NOT USE as a platform, runway, or as scaffold planks.
Always face the ladder and maintain 3 points of contact when climbing a ladder
Do not set up a ladder near passageways or high traffic areas where it could be knocked over.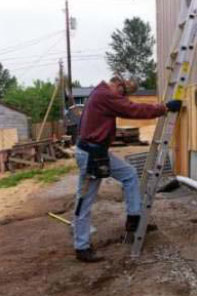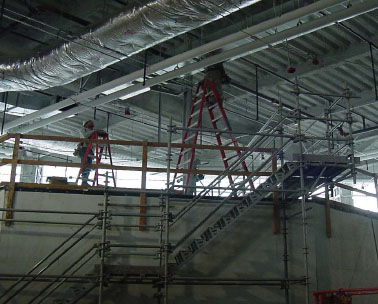 Does your ladder placement mean a fall PAST other safeguards?
FALLS SAME LEVEL
Wear the proper foot gear.
Walk slowly and never run on slick ground.
Test potentially slick areas by tapping your foot on them.
Keep walkways clear of water, ice, oil and slippery materials.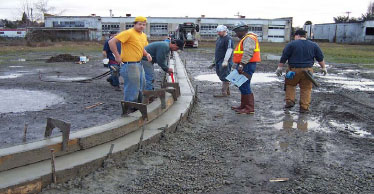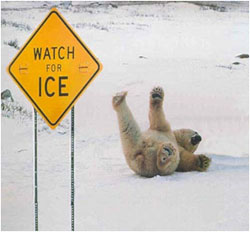 Watch for tripping hazards.
Always be sure that you can see over your load.
Keep your eyes on where you are going.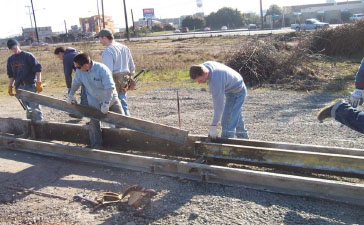 Avoid tripping hazards
Any change in elevation is a major source of tripping.

Even a change of ¼ -½ " can cause a trip.
Curbs, cracks, single steps are all hazards.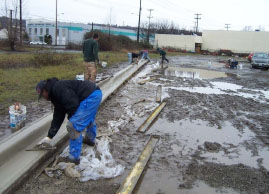 When these helpful hints don't work, and you know you are going to slip, try to reduce your potential injury when falling by:



Roll with the fall.
Relax as much as possible when you begin to fall.
Toss the load you are carrying. Protect yourself instead of the objects being carried.



Prevent or mark jutting material that may not be seen when walking quickly or with vision obscured (carrying materials or tools)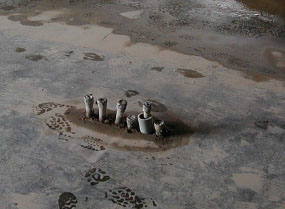 FALLS AGAINST OBJECTS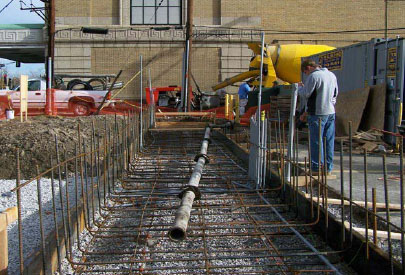 What's missing here?
USE REBAR CAPS AND GUARDS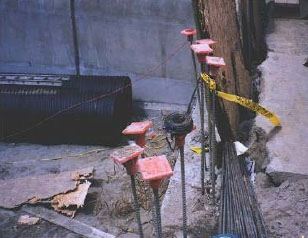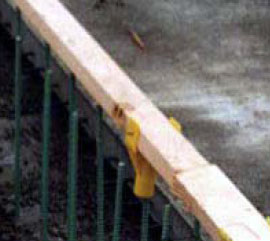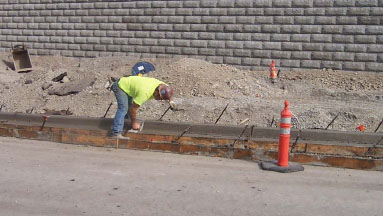 MAYBE JUST ONE WILL DO?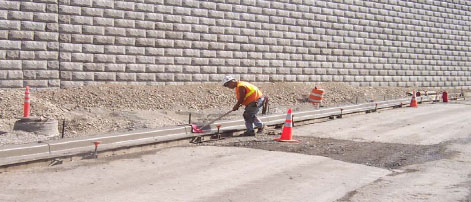 What are the hazards in this picture? Are they corrected?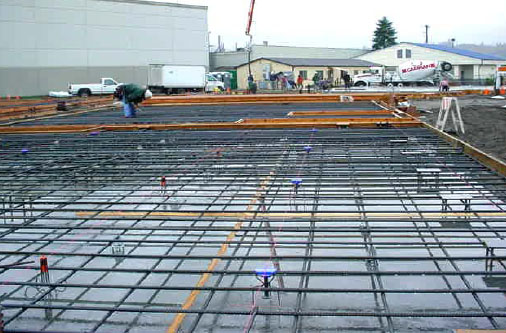 THOSE MUDDY BOOTS COULD NEVER SLIP, RIGHT?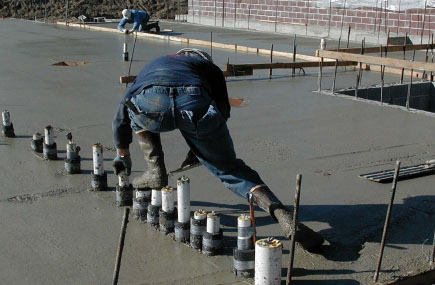 What is missing here?
FALLS TO LOWER LEVEL
Floor and Wall Openings
Install guardrails around openings in floors and across openings in walls when the fall distance is 6 feet or more



Make sure top rails can withstand a 200-lb load
Construct guardrails with a top rail approximately 42" high and with a mid-rail about half that high (21")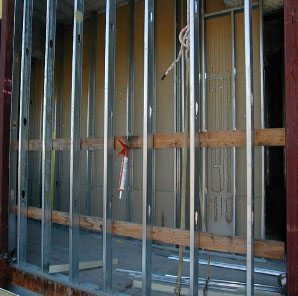 Cover all floor openings larger than 2" x 2"with material that can safely support at least twice the anticipated working load
Secure and mark the cover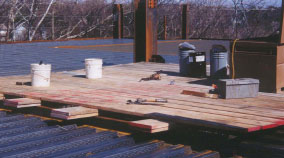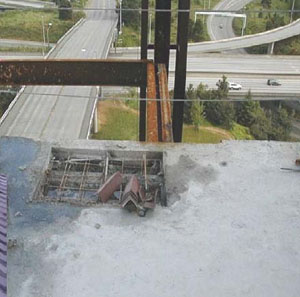 There is no excuse for not covering and securing and marking every floor and roof opening, regardless of size
It's actually better to build a guard rail around the opening so that it can be seen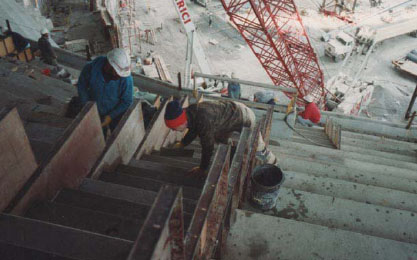 HOW MUCH PROTECTION DOES CAUTION TAPE PROVIDE?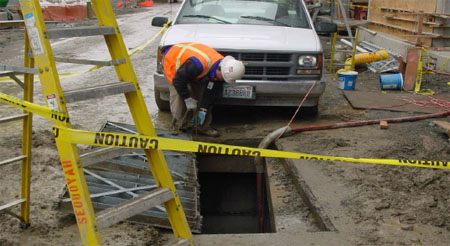 HOW MUCH PROTECTION IS THIS BARRIER PROVIDING?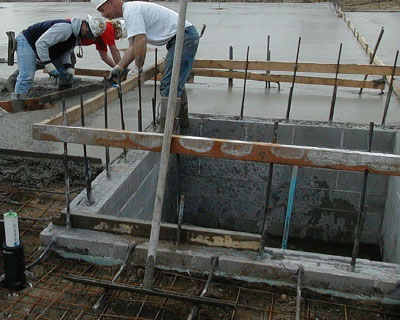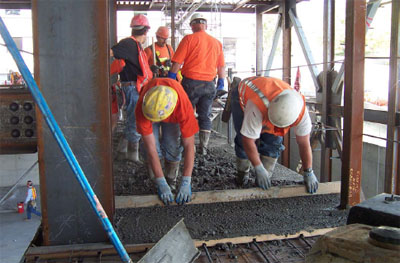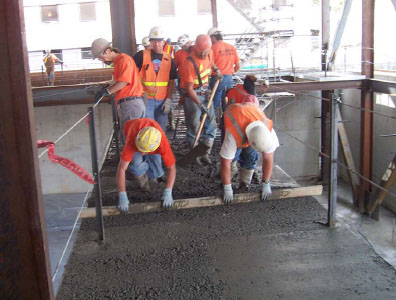 FALLS FROM VEHICLES
Step -don't jump -from vehicles or equipment
Do not board or depart any vehicle or equipment that is moving
Watch where you park!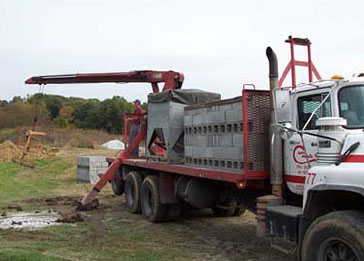 FALLS FROM STAIRS
Do not store materials on stairways
Keep hazardous projections (such as materials, protruding nails, large splinters, etc.) off stairs, treads or handrails
Correct slippery conditions on stairways before they are used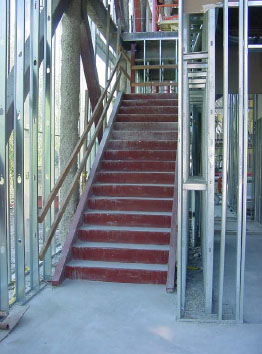 Keep all cords, hoses and welding leads off the stair treads and risers
Keep stairs clear of debris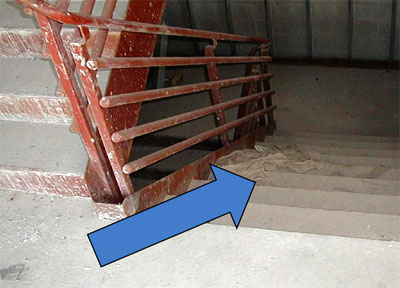 Could you see this hazard?
PREVENT TRIPPING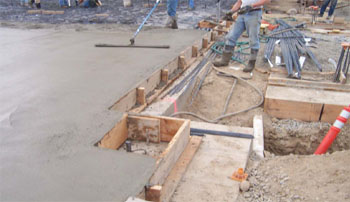 How many ways to trip can you see?
PREVENT TRIPPING
WHAT COULD YOU DO? OR DO BETTER?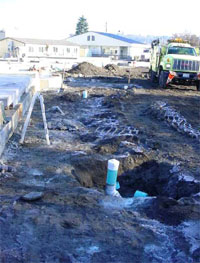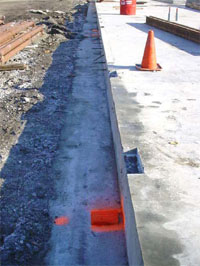 Keep tools and supplies out of traffic areas
Provide enough light for workers to see and to prevent accidents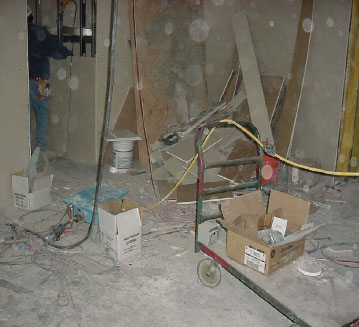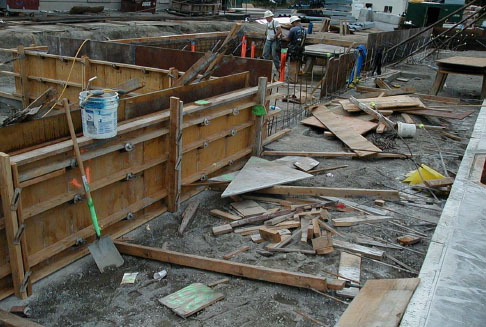 TESTIMONIALS BY PEOPLE WHO HAVE HAD TO LEAVE THE PROFESSION DUE TO SERIOUS INJURY FROM FALLS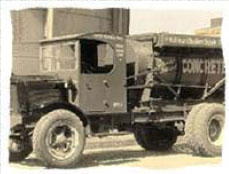 Kuhlman Corp
CEMENT MASONS STRUCK BY INJURY RATES 2006-2008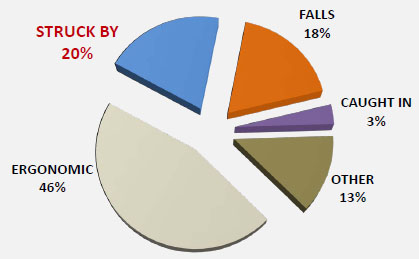 Source: Washington State Department of Labor and Industries
CEMENT MASONS STRUCK BY AND AGAINST INJURIES 2006-2008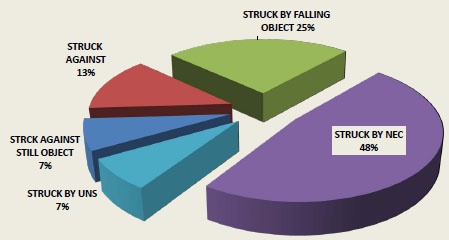 Source: Washington State Department of Labor and Industries
STRUCK BY/AGAINST
Struck by/against:
impact of a part of the body against something or
hit by a moving or flying objects
or by noise (noise impacts the ear drum)
When a worker is
hit by work tools,
by construction materials,
by a vehicle, by equipment such as a backhoe bucket,
by flying debris,
by earth during a trench collapse, or
by any other object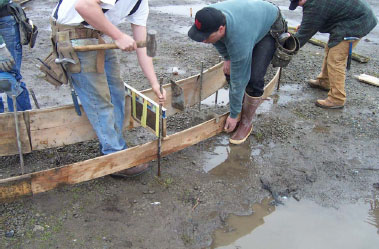 When helping someone to hitch equipment or an implement to a truck or tractor, stand to the side. That way, the driver can see you. Also, you won't be between the truck and the equipment.
Never work under a vehicle or equipment that is supported only by a jack or stand. The jack or stand could tip, and the raised equipment then will be dropped on the person under it.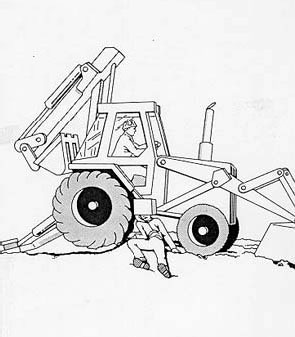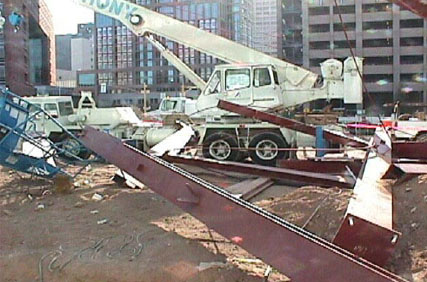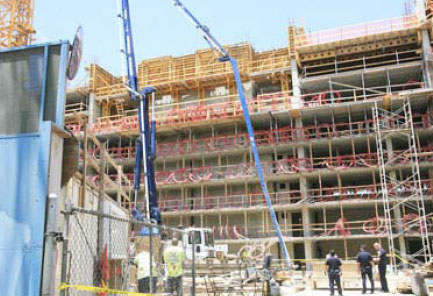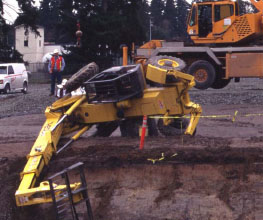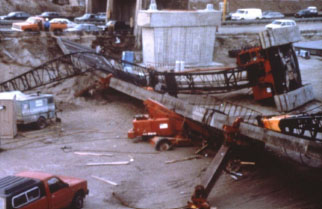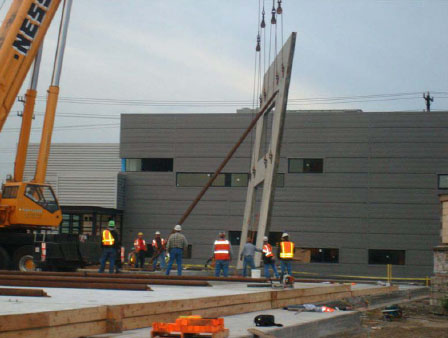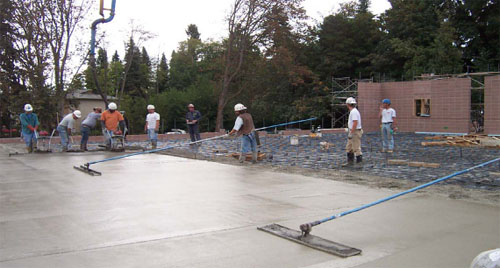 Who has potential for being struck on this site? Struck by what?
Concrete can "burp back" from the hopper
Stay back from the hopper of the concrete pump.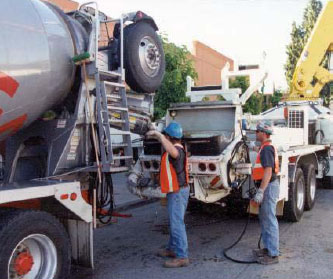 CEMENT MASONS CAUGHT IN INJURIES 2006-2008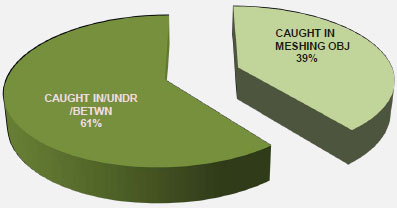 Source: Washington State Department of Labor and Industries
CAUGHT IN & CAUGHT BETWEEN
CAUGHT IN/UNDER/BETWEEN - a part of the body is squeezed, pinched or crushed in machinery or materials
Reasons Caught-In and Caught-Between Accidents Happen
Working on moving equipment
Working under mental or physical stress
Using unsafe equipment
Lack of training or instructions
Inadequate guarding on machines
Incorrect hitching practices
Distraction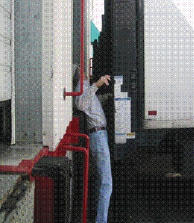 CAUGHT BETWEEN
Never assume that the driver of a vehicle or equipment operator SEES YOU.
Vehicle and equipment operators must always look in the direction of travel.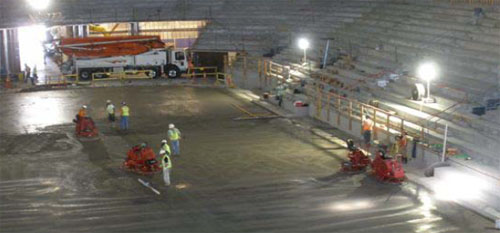 Always install safety locks or other safeguards before getting under or between two objects that have the potential of trapping you.
While unloading or working on equipment, the wheels of equipment need to be pinned to hold them stationary.



This procedure is called chocking. Position chocks to prevent vehicles from inadvertently moving in any direction.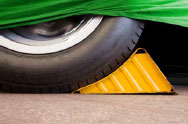 Pixxzle/ iStockPhoto
CAUGHT IN/BETWEEN
Safeguard against contact with moving machine parts.
Shut off power, perform lockout/tagout, and release any remaining energy before unjamming, servicing, lubricating, or adjusting machinery.
Replace guards after servicing and before resuming use of equipment.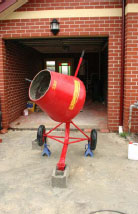 Avoid wearing jewelry and tattered or loose clothing around machinery, and wear hair short or tucked inside clothing
Avoid stepping or reaching across running equipment or machinery.
TESTIMONIALS BY PEOPLE WHO HAVE HAD TO LEAVE THE PROFESSION DUE TO SERIOUS INJURY FROM BEING STRUCK BY OR CAUGHT IN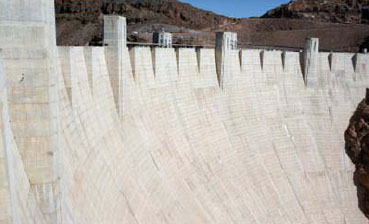 Hoover Dam