Summary Statement
An announcement that former construction and maintenance workers from the U.S. Department of Energy (DOE) Hanford, Washington, nuclear facility are being interviewed about possible work-related health problems.
May 1998
Former construction and maintenance workers from the U.S. Department of Energy (DOE) Hanford, Washington, nuclear facility are being interviewed about possible work-related health problems. The Hanford Building Trades Medical Screening Program opened its first outreach office at a kickoff March 16, in Pasco, Wash.
After a year of planning, medical screenings (exams) were to begin in clinics near Han-ford May 15 and continue for 4 years.
"This program will provide aid to our members who worked at Hanford; it will help them to understand their health situation and, hopefully, allay concerns they may have," Bob Dilger told the kickoff crowd in Pasco. Dilger is executive secretary of the Washington State Building and Construction Trades Council (BCTC).
"More than 109,000 building trades workers have worked at Hanford since it opened," added Richard Berglund, president of the Central Washington BCTC. "We expect that 30,000 will participate."

DOE funds the program, including all costs of the first health screening for each participant. The program is run by five health organizations and coordinated by CPWR – Center for Construction Research and Training.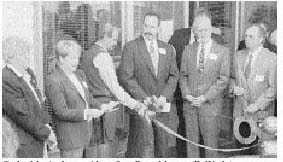 Corky Mattingly, an aide to Sen. Patty Murray (D-Wash.), expresses
the government's gratitude to former Hanford construction and
maintenance workers during a kickoff for the Hanford Building
Trades Medical Screening Program in Pasco, Washington. Looking
on, left to right, are Dr. Eula Bingham, former head of OSHA; Ken
Sugden, president, Pasco Chamber of Commerce; Richard Bergland,
Central Washington BCTC; Bob Dilger, Washington State BCTC;
and Hank Hartley, Pasco outreach-office manager.

Anyone is eligible who did construction or maintenance at Hanford for at least 5,000 hours or who had significant exposures to asbestos, beryllium, cadmium, chromium, lead, mercury, noise, radiation, silica, or solvents. The program also covers former construction or maintenance workers who think they have serious health problems as a result of their Hanford work.
Former workers who live outside the Northwest will be referred to doctors near their homes.
To learn more about the free screenings, former Hanford construction and maintenance workers can call 1-800-866-9663. (The University of Washington has a separate program for former Hanford production workers; they can call 1-800-350-0896.)

Similar programs are under way for building trades workers at DOE sites in Oak Ridge, Tennessee, and Savannah River, South Carolina.