PESO: Excavations
PESO: Easy-To-Use Training in English and Spanish

PESO: Easy-To-Use Training in English and Spanish PESO is an easy-to-use, bilingual toolkit created by the Oregon OSHA Occupational Safety and Health Program to help employers deliver job safety training and reduce workplace injuries and illnesses. The complete toolkit contains tookbox talks, handouts,training modules and overheads to use for presentations. The complete toolkits are posted on the OR-OSHA website at www.orosha.org. The following are links to the PESO toolbox talks in this collection:
Summary Statement
Brief description of steps to take to avoid a cave-in during an excavation. Part of a collection. Click on the 'collection' button to access the other items.

CALL BEFORE YOU DIG!
Determine the estimated underground installation locations.
Contact the utility/owner and Underground Utility Notification Center (800) 332-2344.
Proceed cautiously to find the exact installation location.
Support, protect, or remove the installation in open excavations.
Daily inspections of excavations, adjacent areas, and protective systems must be made by a Competent Person for evidence of a situation that could result in possible cave-ins, failure of protective systems, hazardous atmospheres, or other hazardous conditions.

If evidence of a possible cave-in, failure in the protective system, hazardous atmosphere, or other significant concerns are found, all affected workers must be removed from the hazard until rendered safe.
A safe means of entering and leaving excavations must be provided for workers. A stairway, ladder, ramp, or other means of egress must be located in trench excavations which are four feet or more in depth and require no more than 25 feet of lateral travel.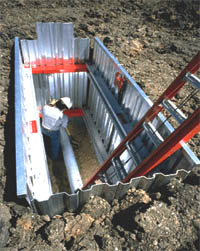 Speed Shore Corp.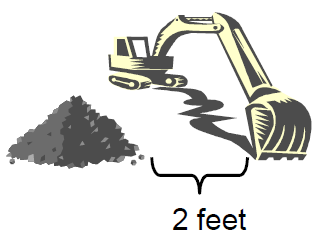 Scale back loose material from the edge of the trench and place all material, equipment, and spoils at least two feet from the edge.