Summary Statement
Excavation and trenching are among the most hazardous construction operations, but using these trenching tips can prevent accidents and save lives.
2002
Excavation and trenching are among the most hazardous construction operations, but taking some basic precautions can prevent accidents and save lives.
A 27-year-old construction worker was digging a trench for a new sewer line when the walls of the 10-foot-deep excavation collapsed around him, burying him under mounds of clay and dirt. Only his hand extended above the dirt, signaling his coworkers where he was as they rushed to the scene to dig him out using their hands and hand shovels. Forty-five minutes later, a cut and bruised but fully conscious worker stepped from the hole, surviving
Many workers aren't so lucky. Excavation and trenching are among the most hazardous construction operations, and the weight of soil sloughing off the side of an unprotected trench can cause a crushing blow to an employee at the bottom, resulting in a serious injury or fatality. During 2000 alone, 38 construction workers died in excavation and trench cave-ins, according to the Bureau of Labor Statistics' "Census of Fatal Occupational Injuries." Last fall, for example, a 31-year-old Illinois man died after a piece of a trench wall broke loose and fell on him while he was working in a five-foot-deep trench. In Arizona, a 33-year-old man stepped out of a stacked trench box system when the trench collapsed, suffocating him. In Missouri, a worker was laying pipe in a 12-foot-deep trench with no shoring when the trench wall collapsed, burying him. Four hours later, rescuers finally were able to recover his body.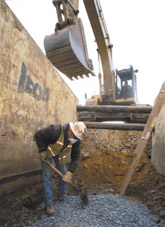 OSHA's excavation standard requires employers to provide sloping, benching, shoring, or shielding to protect workers in excavations five feet or deeper
According to Jim Boom, an occupational safety and health specialist in OSHA's Directorate of Construction, most of these fatalities would have never have occurred if the people responsible for providing a safe workplace had complied with well-known safety requirements for trenches and excavations. OSHA's excavation standard requires employers to provide sloping, benching, shoring, or shielding to protect employees in excavations five feet or deeper. The only exception is for a trench dug in stable rock where there is no loose soil or likelihood of a cave-in.
Which system to use is up to the contractor and depends on a variety of factors such as the type of soil, water content, depth and angle of the cut, changes in weather such as a freeze and thaw, and other activities in the vicinity that might vibrate the trench walls or cause equipment or materials to roll into the trench. Regardless of the system a contractor selects, Boom said, it must meet the requirements of the OSHA standard.
After putting a protective system into place, contractors must designate a "competent person"—someone trained to recognize hazards and authorized to take prompt action to correct them—to inspect the site daily or more often if conditions change. They also must take specific steps to protect workers involved in excavation work who are exposed to falls, falling loads, and mobile equipment.
For those who do not follow these required steps, the costs can be high. "Contractors who take risks to save time at the expense of protecting employees should consider the potential consequences," said Boom. "The ultimate consequences are the loss of lives or disabling injuries. Taking shortcuts could also lead to damaged equipment, property or structural damage, loss of insurance or increased premiums, lawsuits, public scrutiny from bad press, and any penalties that may result from an OSHA inspection." Boom says these costs can be devastating to a company or corporation.
In October, OSHA proposed $248,000 in fines against a Franklin, Mass., construction contractor for willful and repeated failure to protect its workers against potentially deadly cave-ins. "Excavation collapses are sudden, swift, and often deadly," said Brenda Gordon, OSHA Area Director for South Boston. "There's no excuse for an employer time and time again failing to supply such a vital, common-sense—and legally required—safeguard."
Also in October, OSHA proposed $56,000 in penalties against a Frisco, Texas, excavation company that failed to protect its employees from a possible cave-in while installing a water main at the of a trench. The previous month, two Ludlow, Mass., contractors were fined $110,000 for the repeated failure to protect employees against cave-in hazards, and a contractor in Rehoboth Beach, Del., received $49,500 in penalties following an April 5 accident in which a 22-year-old pipe layer died while installing storm drain piping in an unprotected trench that caved in.
Earlier this year, an Alabama waterproofing contractor failed to shore or slope trench walls or otherwise protect workers in a nine-foot-deep excavation. When the unprotected trench collapsed, two workers escaped, but one was buried and suffocated before he could be rescued. OSHA issued $99,000 in fines, including one willful and five serious violations. In Dallas, OSHA cited an engineering firm for violations that caused a cave-in that buried a 41-year-old engineer in a trench about 15 feet deep. The contractor was charged with providing no cave-in protection, insufficient training, and no onsite worker supervision.
The newly revised OSHA Publication 2226, "Excavations," provides more information about excavations and trenches. It is available on the OSHA website at www.osha.gov. Click on Publications under Newsroom. JSHQ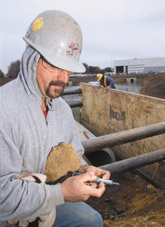 A contractor reads a penetrometer to determine the best protective system to use in an excavation to prevent a cave-in
Trenching Tips
Exercise leadership and commitment to a good safety and health program.
Train workers to follow safe work practices and recognize hazardous conditions.
Choose the most appropriate protective system for the job and apply it according to OSHA requirements.
Provide support systems such as shoring, bracing, or underpinning to keep nearby structures stable.
Designate a "competent person" who can identify hazards and has the authority to take prompt action to correct them.
Inspect the site daily for possible cave-ins, failures of protective systems and equipment, hazardous atmospheres, or other hazardous conditions.
Discourage surface crossing of trenches.
Provide a convenient, easy-to-use means of access to and exit from the trench.
Protect workers from loads or objects falling from lifting or digging equipment.
Prevent water accumulation whenever possible.
Test excavations for oxygen deficiency or hazardous atmospheres and require protective equipment when needed.
Use warning systems for mobile equipment operating at the site.
Occupational Safety & Health Administration
200 Constitution Avenue, NW
Washington, DC 20210
www.osha.gov