Summary Statement
OSHA magazine article profiling death of a carpenter who fell into an unguarded pit, citing regulations that applied to the situation.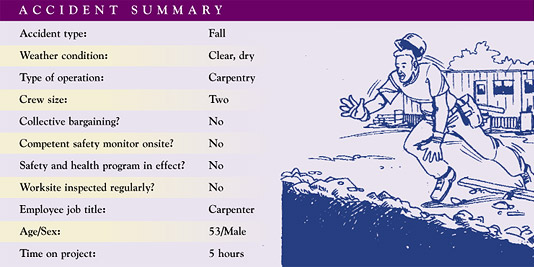 Brief description of accident:

An employee apparently tripped while walking from the equipment trailer toward the area where construction activity was taking place and fell into an unguarded pit measuring 38 feet wide, 18 feet long, and 106 feet deep. The employee struck the concrete floor below.
Accident prevention recommendations:

Guard the pit with a standard railing or cover. Title 29 of the Code of Federal Regulations (CFR) 1926.501(b)(1)
Assign a competent person to the jobsite. 29 CFR 1926.20(b)(2)
Train employers to recognize and abate fall hazards on the jobsite. 29 CFR 1926.503(a)(1)
Develop a written safety and health program to manage this and other forms of employee training. 29 CFR 1926.20(b)(1)
Sources of Help
OSHA construction standards, 29 CFR Part 1926, contains OSHA job safety and health rules and regulations covering construction.
OSHA-funded free onsite consultation services are available to help the small business employers identify and correct workplace hazards, develop or improve an effective safety and health management system, or both. Contact the OSHA regional office in your area for additional information. JSHQ