Summary Statement
Greenlee Textron, Inc. (Greenlee) is recalling about 650 CM-700 and CM-750 electrical testing meters.
2002
WASHINGTON, D.C. - In cooperation with the U.S. Consumer Product Safety Commission (CPSC), Greenlee Textron, Inc. (Greenlee), of Rockford, Ill., is voluntarily recalling about 650 electrical testing meters. The meters are used to measure voltage and current of electric-powered equipment. An incompatible grommet, located in the battery compartment to protect internal wires, can cause the meter to provide inaccurate voltage and current readings. A meter that inaccurately indicates zero voltage or current creates the potential for electric shock or an electrocution hazard from the equipment being tested.
CPSC and Greenlee have not received any reports of injuries or property damage. This recall is being conducted to prevent the possibility of injuries.
This recall involves certain CM-700 and CM-750 electrical meters. The 8-inch meters are dark green with bright yellow features. The model number and the words "Greenlee Test Instruments" are printed across the front of the meter. A silver plate on the back of the meter displays the serial number (S/N). Serial numbers included in the recall range from 0203540001 through 0203540650. The electrical meters were made in Taiwan.
Home Depot (model CM-750 only) and electrical supply stores sold the meters nationwide during April 2002. The CM-700 model sold for about $100 and the CM-750 for about $140.
Consumers should stop using the recalled meters immediately and contact Greenlee to receive a replacement meter. For more information, consumers can contact Greenlee toll-free at (800) 435-0786 between 8 a.m. to 5 p.m. CT Monday through Friday, or visit the firm's web site at www.greenlee.com/
CM-700 and CM-750 meters outside the above serial number range are not included in this recall.

Greenlee Textron Recall Hotline: (800) 435-0786
CPSC Consumer Hotline: (800) 638-2772
CPSC Media Contact: Scott Wolfson, (301) 504-0580 Ext. 1189
Greenlee Media Contact: Stan Noble, (800) 435-6114 Ext. 2314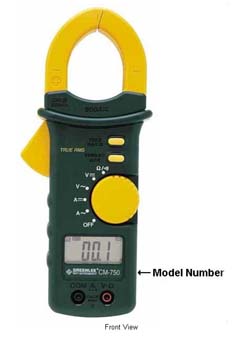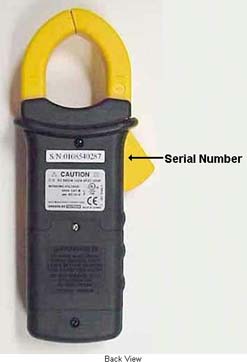 Send the link for this page to a friend! The U.S. Consumer Product Safety Commission protects the public from unreasonable risks of injury or death from 15,000 types of consumer products under the agency's jurisdiction. To report a dangerous product or a product-related injury, call CPSC's hotline at (800) 638-2772 or CPSC's teletypewriter at (800) 638-8270, or visit CPSC's web site at www.cpsc.gov/talk.html. Consumers can obtain this release and recall information at CPSC's web site at www.cpsc.gov.