Summary Statement
Recall of Sears router for woodworking that was sold nationwide from November 2002 through January 2003.

WASHINGTON, D.C. - In cooperation with the U.S. Consumer Product Safety Commission (CPSC), OWT Industries, Inc., of Pickens, S.C. and Sears Roebuck and Co. (Sears), of Hoffman Estates, Ill., is voluntarily recalling about 5,200 electric routers used in woodworking. The on-off switch on the routers could stick in the "on" position, posing a risk of serious lacerations to the operator and bystanders.
Sears has not received any reports of injuries or incidents. This recall is being conducted to prevent the possibility of injury.
This recall involves Craftsman® routers, model number 315.17510 with date codes of A0304 or lower. The model numbers and date codes are printed on a black data label located on the electric motor's housing. The routers have an aluminum base with black handles and a black motor. All affected routers were packaged with a cloth carry bag under the stock number 17518. Routers sold without the bag are not involved in the recall.
Sears sold these routers nationwide from November 2002 through January 2003 for about $60.
Consumers should stop using these routers immediately and return them to their nearest Sears store for a product exchange. For more information, consumers can call toll-free at (800) 932-3188 between 8 a.m. and 5 p.m. ET Monday through Friday, or visit the firm's web site at
www.sears.com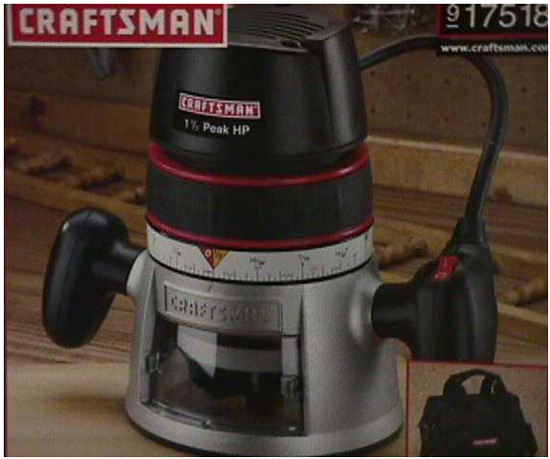 11/2 Peak HP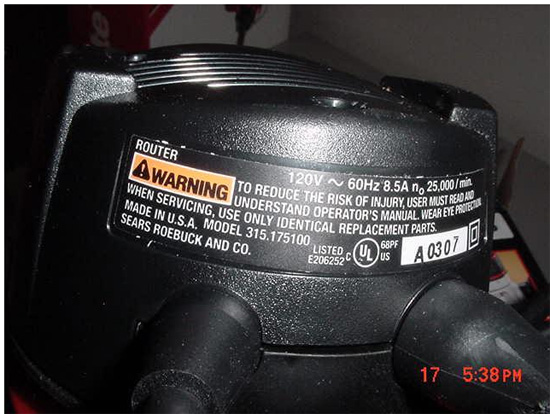 Label on Housing
The US Consumer Product Safety Commission is charged with protecting the public from unreasonable risks of serious injury or death from more than 15,000 types of consumer products under the agency's jurisdiction. Deaths, injuries and property damage from consumer product incidents cost the nation more than $700 billion annually. The CPSC is committed to protecting consumers and families from products that pose a fire, electrical, chemical, or mechanical hazard or can injure children. The CPSC's work to ensure the safety of consumer products - such as toys, cribs, power tools, cigarette lighters, and household chemicals - contributed significantly to the 30 percent decline in the rate of deaths and injuries associated with consumer products over the past 30 years.
To report a dangerous product or a product-related injury, call CPSC's hotline at (800) 638-2772 or CPSC's teletypewriter at (800) 638-8270.
Consumers can obtain this release and recall information at CPSC's Web site at
www.cpsc.gov.