Focus Four Toolbox Talks, Module 2 – Struck-by, Talk #6 – Disaster Sites
IUOE National Training Fund
Summary Statement
A toolbox talk on preventing struck-by incidents occurring during disaster response. Includes questions to ask, an incident to discuss with images, and a place to record questions the trainer would like to ask about the incident. Part of a collection. Click on the 'collection' button to access the other items.

How can we avoid struck-by incidents on disaster sites?
Ask the following questions and give time for answers.
What are the hazards? Vehicles traveling through work zones, heavy equipment operating at cleanup and debris disposal areas, falling debris
What are the results? Crushed or broken limbs, internal injuries, death
What should we look for? Vehicular traffic directed around work zones, construction equipment backing up, uneven and shifting debris piles, soft and uneven soils, materials lifted overhead
Relate this incident or, better, one you know.
Actual Incidents: Four workers were killed during debris collection and removal activities following Hurricanes Katrina and Rita. One was struck by an out-of-control vehicle that entered a properly controlled and well-marked work zone. An equipment operator was killed when his tractor overturned into a ditch and pinned him underwater. Two other workers died at debris piles: one was killed when he was struck by a bulldozer and another was killed when his excavator rolled down a debris pile he was working on.
Ask the following question and ensure every item is covered.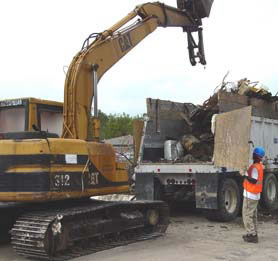 Photo courtesy of OSHA
How do we prevent these results?
Ensure that employees understand the importance of establishing traffic controls.
Mark work zones with barriers, cones, signs, and/or flaggers to warn vehicles.
Take stronger steps if drivers aren't respecting barriers, cones and signs.
Provide spotters when the visibility of heavy equipment operators is restricted.
Keep employees from entering areas where debris is handled or can fall from heavy equipment.
Inspect debris piles before using equipment to pick them up and ensure that there are no obstructions (e.g., fire hydrants, water meters, etc.) underneath that may pose a hazard.
Wear hard hat, safety glasses with side shields and steel toed boots while working with
Ask the following questions and solicit their own stories.
Let's talk about this site now.
Does everyone know the traffic plan for the site?
Does everyone know the entry and exit points for heavy equipment?
Has anyone seen debris fall from equipment?
What other struck-by hazards could exist on this disaster site? How can we avoid them?
Record questions below that you want to ask about this site.