Summary Statement
By strictly enforcing OSHA's fall protection standard, a Texas company saves two worker's lives and demonstrates the value of workplace safety and health.
Summer/Fall 2003
By strictly enforcing OSHA's fall protection standard, a Texas company saves two worker's lives and demonstrates the value of workplace safety and health.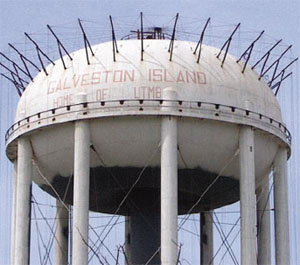 A water tower in Galveston,Texas, provided the platform for a lesson in the value of fall protection.
The day began like any other for Marcos Kasvicis, part owner of DMS Painting, Inc. for the past 12 years. Little did he know that before the day was over, his company's commitment to workplace safety would be put to the ultimate test.
Two of Kasvicis' long-term employees, David Torres and Dennis Avilias, who had worked for the company six and three-anda- half years, respectively, had been working all day on the side of a City of Galveston, Texas, water tower. Suddenly, one of the motors holding the suspension scaffolding they were standing on failed, and the left side dropped several feet. In an instant, both men might easily have plunged 40 to 45 feet to their deaths.
Fortunately, the management at DMS had embraced OSHA's message that "Safety and health adds value. To your business. To your workplace. To your life." In doing so, DMS required that all employees use safety harnesses while working above ground level. "We've always required the use of fall protection," said Kasvicis. "We have even fired employees when we caught them not wearing it."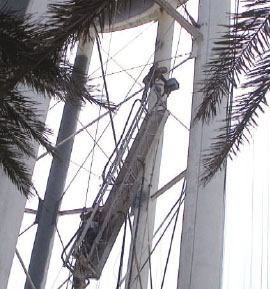 A suspension scaffold hangs alongside the water tower. Fall protection prevented the workers from falling 40 to 45 feet to their deaths.
Basil Singh, a compliance safety and health officer for the Houston South Area Office, happened to be driving down the road as the events unfolded on the water tower. "I was out doing other inspection work and saw the scaffold start falling," he said. Fully expecting to have to conduct a multiple-fatality investigation when he reached the scene, Singh said he was "happy to find that DMS had required those guys to tie off." Although visibly shaken by the incident, both workers were rescued and reached the ground without injury.
All agree that DMS' strict enforcement of OSHA's fall protection standard saved the two workers' lives. OSHA points to the incident as a prime example of why fall protection requirements are in place. The OSHA standard requires that all employees on a two-point adjustable suspension scaffold be protected by both a personal fall arrest system and guardrail system.
"We need to commend this company for its actions today," said Joe Reina, assistant administrator for the Dallas Regional Office, who was in Houston the day the incident occurred. "They did it right. They realized the value of safety and they deserve our thanks."
Another Success Story


A Des Plaines, Ill., contractor has added his company's name to the many who attest to the life-saving value of fall protection for workers. Reliable Brothers, home improvement specialists in roofing, siding, windows, and carpentry in the Chicago suburb, was cited in March 2002 for not having adequate fall protection on its worksites. The employer did not contest the citation. In fact, he purchased necessary fall protection equipment, including harnesses, on the day of the inspection.

That equipment came in handy two months later, when the employer reported that one of his workers fell off a 27-foot-high roof-but was saved from almost certain death by the safety harness he was wearing. The employee suffered only minor injuries and was back to work in six days.
Briggs is a compliance assistance specialist in OSHA's Houston Area Office