Summary Statement
Brief description of working safely on a supported scaffold including what should be covered in user training.

Supported scaffolds consist of one or more platforms supported by outrigger beams, brackets, poles, legs, uprights, posts, frames, or similar rigid support.
Guardrails or personal fall arrest systems for fall prevention/protection are required for workers on platforms 10 feet or higher.
Working platforms/decks must be planked close to the guardrails.
Planks are to be overlapped on a support at least 6 inches, but not more than 12 inches.
Legs, posts, frames, poles, and uprights must be on base plates and mud sills, or a firm foundation; and, be plumb and braced.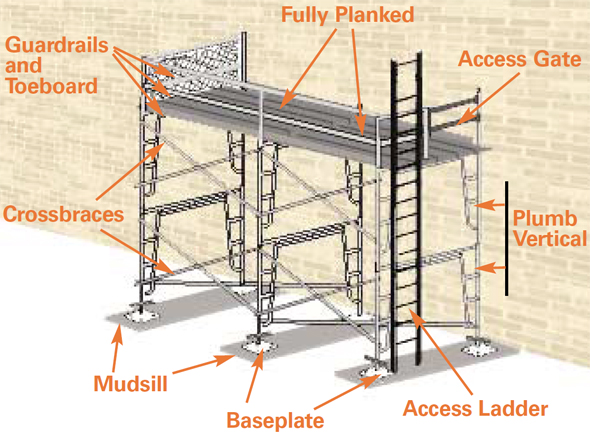 Scaffold user training must include:
The hazards of type of scaffold being used;
Maximum intended load and capacity;
Recognizing and reporting defects;
Fall hazards;
Electrical hazards including overhead lines;
Falling object hazards;
Other hazards that may be encountered.