Toolbox Talk: Housekeeping
CPWR - The Center for Construction Research and Training
CPWR Toolbox Talk Series

CPWR's Toolbox Talks are designed to be used at the start of work to raise worker awareness of potential hazards workers may encounter on a job and preventative measures. The format for the toolbox talks is based on NIOSH research. Each Toolbox Talk includes an image on one side illustrating the potential hazard, and on the other side a description of the hazard and risk, a brief 'real-life' case example, steps to prevent an injury or illness, and questions for discussion. All of the toolbox talks are available in English and Spanish.
Summary Statement
The CPWR Toolbox Talk on Housekeeping addresses proper maintenance of materials and conditions. This resource includes a 'real-life' case example, steps to prevent a related injury or illness, and questions for discussion. It includes an image (page 2) that illustrates the hazard, which can be posted in a central location as a reminder of steps to work safely.   Click on the following links to access in English and Spanish.
2018
https://www.cpwr.com/publications/toolbox-talks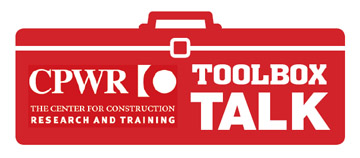 Housekeeping refers to maintaining materials, work areas, and walking areas in a clean, orderly, sanitary, and dry condition. Bad housekeeping is dangerous at any time. It leads to increased risks, production delays, property damage, and higher costs.
Here is an Example
Sharon, a carpenter, was doing framing for a custom-sized space on the second story of a house. There were a lot of wood pieces, scraps, and saw dust that accumulated over the day around the saw horses, power tools, cords, and materials piles. When leaving for the day she tripped over some of the items on the floor and fell down the stairwell, injuring her neck.
Name things that could have been done to prevent this incident.
Does your work site have excessive quantities of lumber, debris, or flammable materials lying around?
How regularly are materials organized and placed where they belong?
Housekeeping
Keep floors clean and clear of waste.
Keep workplaces lighted.
Keep hoses, power cords, and welding leads out of heavily-travelled walkways or areas.
Keep materials away from openings, roof edges, excavations or trenches.
Don't allow materials to build up.
Don't block emergency exits, fire equipment, or first aid stations.
Don't store chemicals and gases near heat sources or electrical equipment.
What Are We Going to Do Today?
What will we do here at the worksite today to promote housekeeping?
1.____________________________________________________________
_____________________________________________________________
_____________________________________________________________
2.____________________________________________________________
_____________________________________________________________
_____________________________________________________________
OSHA REGULATIONS: 1926.25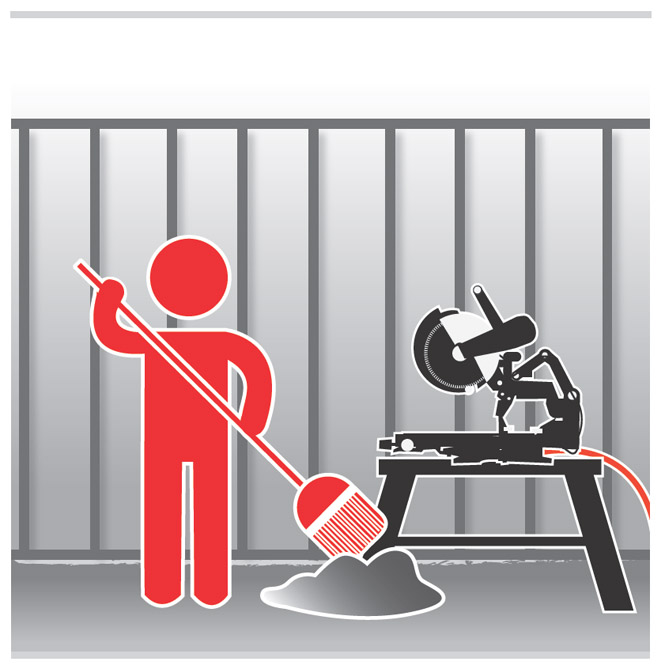 Keep floors clean and clear of waste.
Keep hoses, power cords, and welding leads out of heavily-travelled walkways or areas.
Don't allow materials to build up