Do Not Enter an Unprotected Trench (Poster)
Occupational Safety and Health Administration (OSHA)
OSHA Trenches

The following are links to all of the items in this collection:
Summary Statement
A poster that has safety tips for working safely in trenches. Part of a collection. Click on the 'collection' button to access the other items.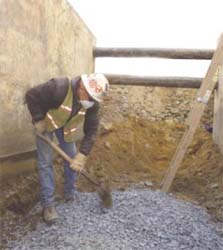 For your safety:
Slope or bench trench walls, or
Shore trench walls with supports, or
Shield trench walls with trench boxes.
Provide safe access through the use of ladders, ramps or stairways.
Keep heavy equipment away from trench edges.
Know where underground utilities are prior to digging.
Keep excavated or other materials at least 2 feet back from the edge of trench.
OSHA's role is to assure the safety and health of workers by setting and enforcing standards; providing training, outreach and education; establishing partnerships; and encouraging continual improvement in workplace safety and health.