Roadway Safety: Instructor Manual
Laborers' Health and Safety Fund of North America
Summary Statement
A manual that helps a trainer provide information on a variety of roadway hazards, such as electrical, falls, slips and trips and ergonomics. Part of a collection. Click on the 'collection' button to access the other items.
2002
This document is one in a program produced under an OSHA grant by a consortium of the Laborers' Health and Safety Fund N.A, the International Union of Operating Engineers, the American Road and Transportation Builders Assn, and the National Asphalt Pavement Assn. All of the documents from this set that are on eLCOSH can be found by clicking on Job Site, Heavy construction, and scrolling to the Street & highway heading. Or to download a complete version of the computerized program, go to https://www.workzonesafety.org/.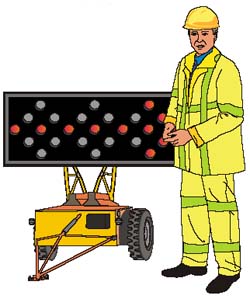 ROADWAY SAFETY provides an overview of common hazards in highway and road construction and simple prevention measures. This program is not intended as a compliance guide. It is intended to help your company produce the worker awareness needed to achieve best practices. It is not a substitute for an OSHA 10 hour course or more in-depth training. It is a labor-management safety reminder before you start work on this site.
Building Roads and Highways Can Be Dangerous Each year:
About 7,500 highway construction workers get hurt or sick.
About 80 highway construction workers are killed. Our work doesn't have to be dangerous if:
We are made aware of the hazards.
We are given ways to avoid the hazards.
We raise safety concerns with our supervisors. Working together, we can make sure everyone goes home safe and healthy.
---
Notes:

Discuss here the purpose of the program - to provide an overview of the hazards as a reminder to new workers. It is NOT a standalone safety program. Not only does it not substitute for an OSHA 10-hour course, it is not sufficient training for workers in highway construction.

Ask trainees: How dangerous is highway construction?

NIOSH Workzone 2001 Report: 841 workers were killed in work zones from 1992 to 1998. About 60% were killed inside the work zone. 42% of these work zone fatalities were construction laborers, 9% were truck drivers, 8% were operating engineers, and 8% were supervisors.

In about 75% of work zone fatalities, a worker on foot was struck by a vehicle. Victims were as likely to be struck by a construction vehicle as by passing traffic.
---
Do Safety Programs Help?
Workers must follow company safety policies. Workers should:
Follow all safety rules and practices.
Avoid horseplay and reckless behavior.
Join in safety discussions. Ask questions. Share your knowledge and experience.
Employers are responsible for determining whether employees understand the information.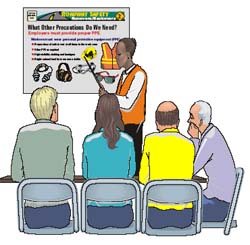 Workers should join in safety discussions and ask questions. Share your knowledge and experience.
Back to Contents