Roadway Safety: Emergencies
Laborers' Health and Safety Fund of North America
Summary Statement
A handout describing the most common emergencies in roadway work and how to respond to them most effectively. Part of a collection. Click on the 'collection' button to access the other items.

This document is one in a program produced under an OSHA grant by a consortium of the Laborers' Health and Safety Fund N.A, the International Union of Operating Engineers, the American Road and Transportation Builders Assn, and the National Asphalt Pavement Assn. All of the documents from this set that are on eLCOSH can be found by clicking on Job Site, Heavy construction, and scrolling to the Street & highway heading. Or to download a complete version of the computerized program, go to https://www.workzonesafety.org/.
What Emergencies Are Most Common?
There are many different possible emergencies.
The most common emergencies
A worker is killed or seriously injured
Contact with gas line or electrical line
Trench collapse
Traffic entering the work zone
Toxic chemical spill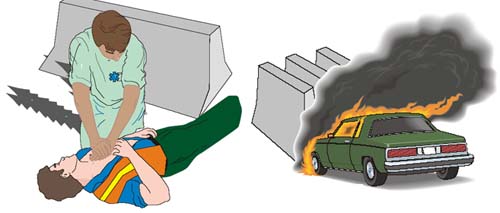 What Should We Do in an Emergency?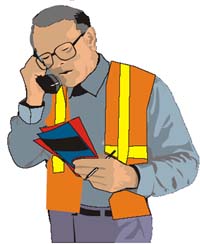 The employer must have a plan.
Emergency steps
Call 911 and get medical help as soon as possible
Contact on-site first aid/CPR
Shut off any equipment and evacuate area if potential toxic exposures or explosions
On-site emergency coordinator contacts fire department/emergency response team
On-site emergency coordinator contacts utility company if applicable
After emergency, ask for counseling if you have been affected by a tragedy or near miss
How Do We Prepare for an Emergency?
You must know your employer's plan.
Emergency planning
Warning system and signal to alert workers for evacuation
Everyone must know where emergency phone numbers are posted for hospital, fire fighters, utilities, etc.
Everyone must know who emergency coordinator is and who is trained in first aid/CPR
Everyone must be trained in emergency plan and participate in regular drills