Roadway Safety: Struck or Crushed
Laborers' Health and Safety Fund of North America
Summary Statement
A handout describing dangers of working in a highway workzone, focusing on struck-by incidents and steps to take to improve safety. Part of a collection. Click on the 'collection' button to access the other items.

This document is one in a program produced under an OSHA grant by a consortium of the Laborers' Health and Safety Fund N.A, the International Union of Operating Engineers, the American Road and Transportation Builders Assn, and the National Asphalt Pavement Assn. All of the documents from this set that are on eLCOSH can be found by clicking on Job Site, Heavy construction, and scrolling to the Street & highway heading. Or to download a complete version of the computerized program, go to https://www.workzonesafety.org/.
How Can Road Workers Be Struck?
Tools and materials are two major hazards.
To avoid being struck by tools
Use point of operation guarding on portable hand tools
Use chain saw safety program
Use PPE
To avoid being struck or crushed by materials
Keep workers out of lifting areas, from beneath loads
Use safe methods for rigging, hoisting, setting


steel plates
manhole frames
jersey barriers
manhole covers


Use PPE - hard hats, footwear, eye protection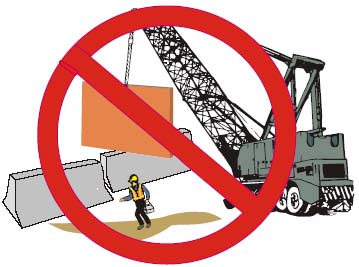 How Can Road Workers Be Struck?
Trees and equipment maintenance are hazards.
To avoid being struck by trees
Restrict access during felling, trimming, loading
Protective structures on equipment
Use safe hoisting, rigging for logs and limbs
To avoid being struck by equipment parts
Lockout/tagout/ hazardous energy control during maintenance, repair, cleaning, inspection