Roadway Safety: Night Work
Laborers' Health and Safety Fund of North America
Summary Statement
A handout describing dangers of working in a highway workzone at night and special precautions that should be taken such as providing clear signage and increasing lighting. Part of a collection. Click on the 'collection' button to access the other items.

This document is one in a program produced under an OSHA grant by a consortium of the Laborers' Health and Safety Fund N.A, the International Union of Operating Engineers, the American Road and Transportation Builders Assn, and the National Asphalt Pavement Assn. All of the documents from this set that are on eLCOSH can be found by clicking on Job Site, Heavy construction, and scrolling to the Street & highway heading. Or to download a complete version of the computerized program, go to https://www.workzonesafety.org/.
What Are the Special Challenges?
Night operations change the work environment.
On the worksite
Poor visibility for motorists
Poor visibility for workers
Communication between shifts
Impaired or drowsy drivers
Physical and social disruptions
Sleep disruption
Risk of injury from drowsiness
Impaired family or social relationships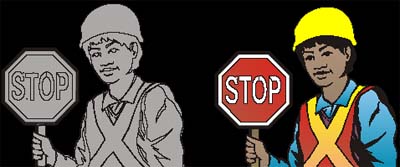 How Can We Protect Ourselves at Night?
Use SPECIAL PRECAUTIONS at the site for night work.
Increase visibility
Retro-reflective clothing
Flashing lights on body/clothing
Retro-reflective tape on equipment
Good work area lighting
Know your surroundings
Vehicle and equipment paths
Assigned work areas
Safe paths to/from work locations
On foot, watch out for equipment
On equipment, watch for workers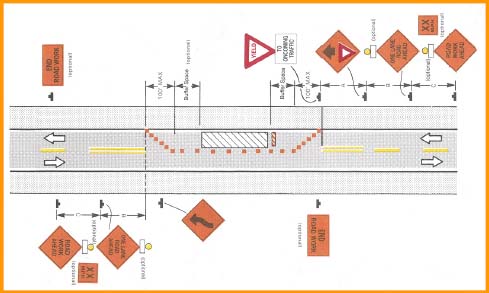 How Can We Protect Ourselves at Night?
Use SPECIAL PRECAUTIONS at the site for night work.
Provide clear signage
Position signs for best visibility
Use changing message/arrow signs
Space drums, cones closer
Proper lighting, contrast work lights from warning lights
Inspect traffic control setup
Inspect frequently
Test drive to highlight problems
How Can Our Health Habits Help?
Night work is not normal. You must compensate.
On the worksite
Eat protein-rich meals, avoid sugars and fats
Drink water, avoid caffeine
At home
Make sleep a priority
Follow a pre-sleep routine
Have light snack before bed
Keep daylight out
Eat family meals together
Plan daytime social activities