Roadway Safety: Instructor Manual
Laborers' Health and Safety Fund of North America
Summary Statement
A manual that helps a trainer provide information on a variety of roadway hazards, such as electrical, falls, slips and trips and ergonomics. Part of a collection. Click on the 'collection' button to access the other items.
2002
This document is one in a program produced under an OSHA grant by a consortium of the Laborers' Health and Safety Fund N.A, the International Union of Operating Engineers, the American Road and Transportation Builders Assn, and the National Asphalt Pavement Assn. All of the documents from this set that are on eLCOSH can be found by clicking on Job Site, Heavy construction, and scrolling to the Street & highway heading. Or to download a complete version of the computerized program, go to https://www.workzonesafety.org/.
Can We Be Safe Near Equipment/Traffic?
Workers on foot must:
Remain alert at all times, in all places.
Check surroundings often. Listen for warnings.
Keep a safe distance from traffic.
Stay behind protective barriers where possible.
Look out for each other. Warn coworkers. Air horns can be used to warn co-workers.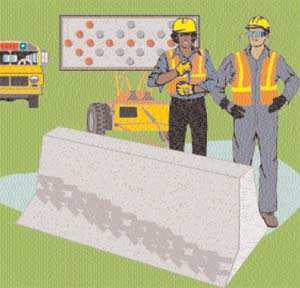 Fig. RB-1. Stay behind protective barriers where possible.
---
Notes:

(See Case Studies No. 3-5, pp. 55-56.)

Ask trainees: How many people are run over and die each year in highway work? (About 50 each year.)

In about 75% of work zone fatalities, a worker on foot was struck by a vehicle. About half of these vehicles were motorists and half were construction vehicles. So victims are as likely to be struck by a construction vehicle as by passing traffic.

About half the workers killed by trucks and construction vehicles were backed over. About 13% of the deaths were operators — more than a third of whom were not professional operators.

Workers can also be hit by debris from passing vehicles and by vehicle mirrors.
---
What Other Precautions Do We Need?
Employers must show the use of proper personal protective equipment. Workers must wear:
Proper class of safety vest at all times in the work zone.
Other PPE as required.
High-visibility clothing and headgear. Bright-colored hard hats are more visible.
Safety clothing for road work comes in Class I, Class II, and Class III categories.
Class I garments are for use in activities that permit the wearer's full and undivided attention to approaching traffic. There should be ample separation of the worker from traffic, which should be traveling no faster than 25 miles per hour. Examples of workers who wear Class I apparel include:
Workers exposed to warehouse equipment traffic, and
Roadside "right of way" or sidewalk maintenance workers.
Class II garments are intended for activities where greater visibility is necessary during inclement weather conditions or in work environments with risks that exceed those for Class I. Garments in this class also cover workers who perform tasks that divert their attention from approaching traffic or that put them in close proximity to passing vehicles traveling at 25 miles per hour or more.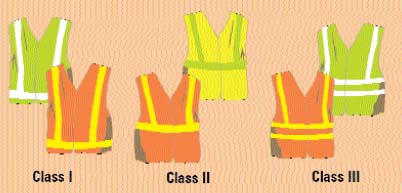 Fig. RB-2. Employers must show proper personal protective equipment (PPE) and train workers in its use. Workers must wear it.
Examples of workers who use Class II apparel include:
Forestry operations,
Ship cargo loading operations,
Roadway construction, utility, and railway workers,
Survey crews,
School crossing guards,
Class III garments provide the highest level of visibility. Class III is for workers who face serious hazards and often have high task loads that require attention away from their work. Garments for these workers should provide enhanced visibility to more of the body, such as the arms and legs. Examples of workers who use Class III apparel include:
Roadway construction personnel and flaggers,
Utility workers,
Survey crews, and
Emergency response personnel.
---
Notes:

Class III applies most often in construction.
---
What About Construction Equipment?
Treat equipment and vehicles with caution. Around equipment and vehicles:
Stay out of "blind spots."
Communicate with drivers and operators by radio or hand signals, and/or eye contact.
Don't approach until you communicate with the driver or operator and the driver or operator acknowledges you.
Stay clear of vehicles. Know the traffic control plan.
Have spotters to warn you when you must work with your back to equipment or oncoming traffic.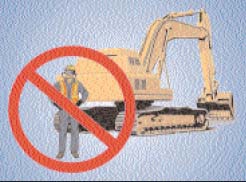 Fig. RB-3. Stay out of "blind spots."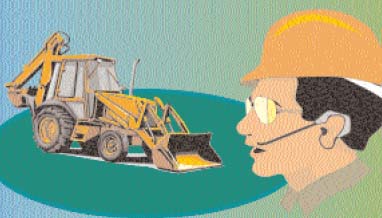 Fig. RB-4. Communicate with the driver or operator and make sure the driver or operator acknowledges you
---
Notes:

Blind spots can be very large on construction vehicles.

Are back up alarms enough warning? Why not? What else can you do?

NOTE: Systems available for preventing backovers include closed circuit TV cameras, back up radar systems. Additional mirrors are also helpful.

Remember: If you can't see the operator, the operator can't see you.

Recognize the swing radius on some equipment.

Be ready for possible sudden movements or changes in direction of equipment.
---
Back to Contents