Roadway Safety: Instructor Manual
Laborers' Health and Safety Fund of North America
Summary Statement
A manual that helps a trainer provide information on a variety of roadway hazards, such as electrical, falls, slips and trips and ergonomics. Part of a collection. Click on the 'collection' button to access the other items.
2002
This document is one in a program produced under an OSHA grant by a consortium of the Laborers' Health and Safety Fund N.A, the International Union of Operating Engineers, the American Road and Transportation Builders Assn, and the National Asphalt Pavement Assn. All of the documents from this set that are on eLCOSH can be found by clicking on Job Site, Heavy construction, and scrolling to the Street & highway heading. Or to download a complete version of the computerized program, go to https://www.workzonesafety.org/.
What Are the Dangers of Electricity?
Contact with electricity can cause fire, explosion, or electrocution.
On the work site:
Equipment contacting a live electrical line can cause fire, explosion, or electrocution.
Electricity can arc from the electrical line to the equipment and cause the same outcome as if you had grabbed it with your hands.
Electricity can cause severe burns and death. Work around electricity:
Only when you are trained in all aspects of the job.
Only when you have reason to be there.
How Do We Treat Above-Ground Utilities?
Use extreme caution and keep your distance. Equipment, such as cranes or dump trucks, must not come within 10 feet of an energized power line. When working around a power line:
Get utility company to mark, flag, and shield lines.
Assume it is live until tested. Have it de-energized and visibly grounded.
If it must remain energized, maintain the appropriate safe distance (Fig. EH-2) but in no case less than 10 feet.
Post signs to mark a safe distance from the lines to help keep equipment away.
Make all workers and drivers who must enter the area aware of the overhead lines.
Tips for operators include:
Mark a safe route for repeated travel.
Slow down.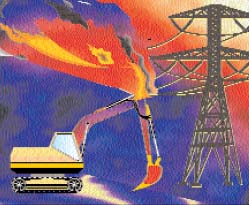 Fig. EH-1. The dangers of electricity include fire, explosion, and electrocution.
Minimum Safe Distances Power Lines

Voltage
Distance
50 kV or below
10
>50-200 kV
15
>200 - 350 kV
20
>350 - 500 kV
25
>500 - 750 kV
35
>750 - 1,000 kV
45

More in fog or rain
---
Notes:

Ask trainees to name the dangers of electricity.

Electricity must always be respected. The best protection is distance. Only work around it if you have a reason to be there and you have been trained in all aspects of that job.

Ask trainees: How many workers die each year from electrocutions in highway work? (About 60-80 construction workers are killed each year by contact with overhead lines. Most work in the utility industry.)

(See Case Studies No. 1 - 2)

Ask trainees: Are there any electrical hazards on our site? Where? How can we make sure people avoid disturbing them?

NOTE: A distance greater than 10 feet may be necessary if is foggy or windy.
---
What If Contact Happens?
Never touch any equipment or person who is in contact with a power line.
If you are on the ground:
Stay away from the vehicle!
Do not touch any equipment or person in contact with the line.
Get the lines de-energized. If you are in the vehicle:
Stay in the vehicle and do not touch any metal.
If you must get out, jump clear, then shuffle slowly away, keeping both feet in contact with the ground. Keep your feet together to help prevent current from running through your body.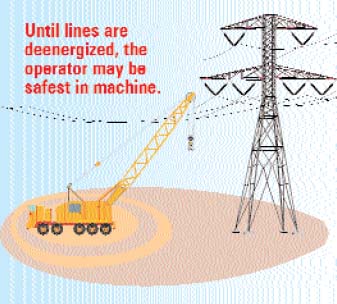 Fig. EH-3. Do not touch any equipment or any person in contact with a power line.
---
Notes:

NOTE: The safe distance includes any part of the equipment, rigging, and load.

Use a spotter when cranes or other equipment work in proximity to overhead lines.
---
Can We Be Safe Around Buried Utilities?
Contact with buried utilities can cause explosion, fire, and electrocution.
Digging equipment used to open trenches and excavations can contact live buried utilities such as electrical, gas, and communication lines. This can result in explosions, fires, electrocutions and loss of essential services — and puts both the worker and the public in danger.
Before digging:
Call electrical, gas, and communications utilities.
Review marked out areas. Marked out areas may not be exact. Dig by hand within 3 feet of mark-out.
Be careful. Sometimes the utility can be wrong. When digging, look for signs of utilities:
foreign debris in excavation,
changes in soil types,
asphalt patches or depressions indicating previous digging, and
concrete, plastic or gravel.
If a line is hit, you must report it to the utility company — even if you only dented or bent it. Even a small bend or dent in a utility line can lead to serious hazards later.
If you hit a gas line, evacuate the area, secure the area, and call the fire department.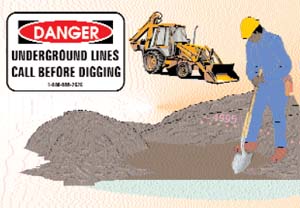 Fig. EH-4. Contact with buried utilities is just as hazardous as contact with overhead lines. It can cause explosion, fire, electrocution.
---
Notes:

Often there is one number to call about below ground utilities (for example, Miss Utilities).

Color code painted on surface:
YELLOW - Gas Line
RED - Electrical
BLUE - Water
ORANGE - Telecommunications
GREEN - Sewer

Some utility companies use ribbons as identifiers.

Ask trainees: What do you do if you hit a gas line?
---
Back to Contents